Let's look a bit at the differences between VxRail, XC Series, VxBlock and VxFlex.
What is VxRAIL
VxRail is an HCI appliance from Dell EMC's CI organization. Formerly known as VCE, the same group that developed and marketed the VxBlock and VxRack systems. It is the smaller of the two and VxRail is prebuilt: easy to deploy, easy to scale out, one support contact for everything. It is also a solution on VMware's website on their Hyperconvereged systems. VMware have VSAN and VxRail as their software-defined certified solutions.
VxRail uses a modular, scale-out architecture of 1U and 2U appliance chassis each containing one or four server nodes.
The VxRail Appliances are fully integrated, pre-configured, and tested hyper-converged infrastructure that is built using with Dell EMC PowerEdge servers. They deploy vxRail appliances in clusters and each cluster can scale up to 64 nodes. Each node runs the VMware vSphere suite of applications and uses vSAN to pool and present local storage. The Dell EMC VxRail Appliance family are highly configurable to meet any use case for a wide variety of applications and workloads. Each node can be with 2.5 SFF SSDs and 2.5" or 3.5" HDDs in either hybrid or all-flash configs.
VxRail Appliance, physical network switches can be provided by the customer and virtual networking is supplied using the vSphere virtual distributed switch. They perform day zero through day two using the VxRail Manager application. VxRail appliances include VMware Data Protection and RecoverPoint for VMs, which provide simple, efficient, and proven backup and disaster recovery capabilities for VxRail They deploy appliances using VMware Validated Designs (VVDs). VVDs are comprehensive and extensively tested blueprints that customers use to build and operate a Software-Defined Data Center (SDDC).
We are talking about the below product:
vSAN offers mirroring (RAID 10) and single- and dual-parity (RAID 5/6) between nodes. It also has inline deduplication and compression, providing up to a 7x space reduction, according to Dell EMC. VxRail has the same software characteristics as VMware's vSAN and can be managed directly through the vSphere console although VSAN is more difficult to implement on its own without VxRail.
What is VxBlock
It is basically their flagship solution for CI (not HCI).
VxBlock 1000 converged infrastructure is specifically designed to help you deliver cloud operations faster, consolidate and protect your high-value workloads, and simplify life cycle management. Automate key processes and move to a VMware-based private or hybrid cloud model.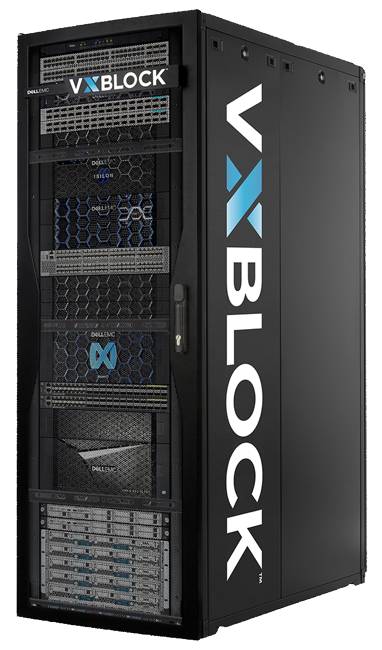 In the VxBlock you get two types of servers, four kinds of storage arrays, extended data protection options. We can choose these when bought depending on your situation.
According to Dell EMC, you get the below:
Like all the other vendors they claim you will free up resources and spend less time managing your environment.
The system supports up to eight Cisco UCS Domains and includes Cisco LAN and SAN switches for physical networking. The maximum number of servers is 1120, and each server runs the VMware vSphere ESXi hypervisor and VMware network virtualization options.The VxBlock System 1000 can be configured with up to 10 centralized storage systems including Dell EMC VMAX, Unity, PowerMax, Isilon, and XtremIO. The system is centrally managed by the Advanced Management Platform.
To see more detail on their architecture, please click here.
Differences between VxBlock and VxRail
VxBlock is the bigger of the two and has more stuff to manage and integrate. It also utilizes Cisco for servers and some networking where VxRail only use Dell EMC hardware and VMware. Because of the different vendors on VxBlock, there is a Release Certification Matrix to follow when doing the upgrades and this can be somewhat complicated.
You will be able to use VxRail for edge locations etc.. where VxBloxk is more the DC solution. Like I said, VxRail is easier to manage where you will need more skills operating the VxBlock.
VxBlock uses a SAN behind the scenes where VxRail uses software-defined storage. Both of these have pros and cons and are designed for particular scenarios.
XC Series
The XC Series is an integrated, preconfigured, and tested hyper-converged infrastructure appliance. It is built with Dell EMC PowerEdge servers and Nutanix Software. The appliance is available with various hypervisors, including Microsoft Windows Server with Hyper-VHyper-V is a hypervisor-based virtualization technology from Microsoft, Nutanix AHVNutanix AHV is an enterprise-class virtualization solution included with the Acropolis Enterprise Cloud OS, and VMware ESXi. The Nutanix Acropolis Distributed Storage Fabric aggregates storage across all the appliances and presents the pooled storage for use by the hypervisor. Nutanix Prism provides a central management framework and intuitive, easy-to-use user interface. Appliances are attached to customer-provided physical switches, and combined to form clusters.‌‌‌‌‌‌‌‌‌‌‌‌‌‌ Pretty much the same as a lot of other hardware Nutanix support except for great hardware from Dell.
VxFlex
Ok, then we have a different more Hyper-converged solution called the VxRack (VxFlex)
VxFlex is a hyper-converged, rack-based solution that is built with Dell PowerEdge servers. The VxRack Flex solution is available with various hypervisors software that enables a host to support multiple virtual machines, each running its own guest operating system. Local disks provide storage that is pooled and shared using Dell EMC VxFlex OS. VxFlex also includes Cisco and Dell network switches for management traffic and node connectivity. With this solution, VxFlex Manager is used to automate and simplify implementation, expansion, and life cycle management. VxFlex offers flexible node configuration:
Hyper-converged run a choice of hypervisor and provide both compute and storage resources for production virtual machines.
Storage-only are used to provide storage capacity. Storage-only nodes run a lightweight Red Hat Enterprise Linux (RHEL) operating system. They add storage capacity from these nodes to the overall storage pool. However, workloads do not run on them.
Compute-only come with a large amount of CPU and memory but minimal storage. They provide computing power but do not contribute any storage to the VxFlex OS storage pool.
Dell EMc bought ScaleIO software – renamed VxFlex OS now. Dell EMC VxRack SDDC is the ultimate infrastructure foundation for realizing a multi-cloud and is a full HCI solution from Dell.. They do not rely on Vmware or Nutanix for the software-defined storage portion. It can run almost any application on a large scale out system.
More info at Dell EMC click here
Conclusion
I like Dell EMC's CI and HCI solutions as they do most stuff they claim to. One thing about Dell EMC is that they have a broad range of products and newer tech hardware like NVMe etc… You can also customize your solution as needed where you cannot always customize with all vendors.
If you have a branch office and require VMware only then go for VxRail and if you are implementing a private/hybrid cloud with custom solutions, then go for VxBlock (old school SAN) or VxRack (VxFlex) – Software-defined storage. If none of these fit and you do some Nutanix then go for the XC Series
Cobus Smit – 23 Sept 2019
Spread the HCI Information